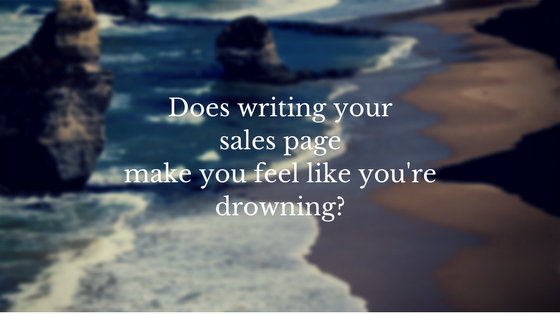 Does your Sales Page feel like a scene out of a bad horror movie?
You know the one.
Screaming. Bad acting. And there's always that one person who trips up at the last minute and has you yelling at the television "GET UP! THE KILLER IS RIGHT BEHIND YOU!"
Except when it comes to your Sales Page, you're the one screaming and crying as you run from the blinking cursor that always leads to your demise.
Why is this so hard?!
Why can't I just get this done?!
Everyone else makes it look so easy!
Until finally, you are approaching the day on the calendar when you're supposed to launch and your sales page trips you up… again.
Consider this your life-changing moment. Instead of yelling at the television, I'm reaching out my hand and inviting you to conquer your sales page once and for all, without all the screaming and bad acting.
But how? You ask as you remember all the time you've spent in front of your computer trying to write and only end up with little to no results.
With this:
Breathe Love Into Your Sales Page: The 3-Day Challenge to Take Your From Frustration to Fabulous
You don't have to struggle another moment with your sales page ever again.
You can have all of the tools you need to write a high-converting, authentic sales page that delivers exactly what your audience wants.
Imagine not having to spend another moment in front of the computer looking at the white screen wishing inspiration would come.
Instead, you'll open up the workbook and know exactly what to do to begin writing.
What if you felt confident that once you wrote your sales page, it would actually convert and lead to sales? You know, do its job?
That's exactly what this challenge offers – peace of mind. Your hard work won't go to waste when you implement my proven copy principles in a warm and cozy way to help you show up as an expert, own your voice, and marry your brand with authentic and feel-good copy that gets results.
Before you know it, you'll have a sales page that sounds like you, feels like you, and speaks to your clients in a way that only you can.
You won't have to worry about not making sales because your ideal clients will read your sales page and be ready to work with you more than ever before thanks to the help of you finding your voice and matching it with key copywriting principles that are known to convert.
JILL'S NEW COPY MATCHES HER ENTHUSIASM AND RESULTS SHE ACHIEVES FOR HER CLIENTS:
"I reached out to Amy because I was struggling to convert my "Work with Jill" web page. I am happy to report that since she helped me fix the copy on that page, I have made many new sales! I love to write, but I realize that writing sales copy for a website is a different science than blogging. Amy is gifted in this area. Because she was able to blend her strengths with my words, I was blown away with the finished product."
-Jill Dahl, Secondhand Therapy
Why shouldn't you invite more clients (and money) into your life by conquering your sales page once and for all?
I know you're ready.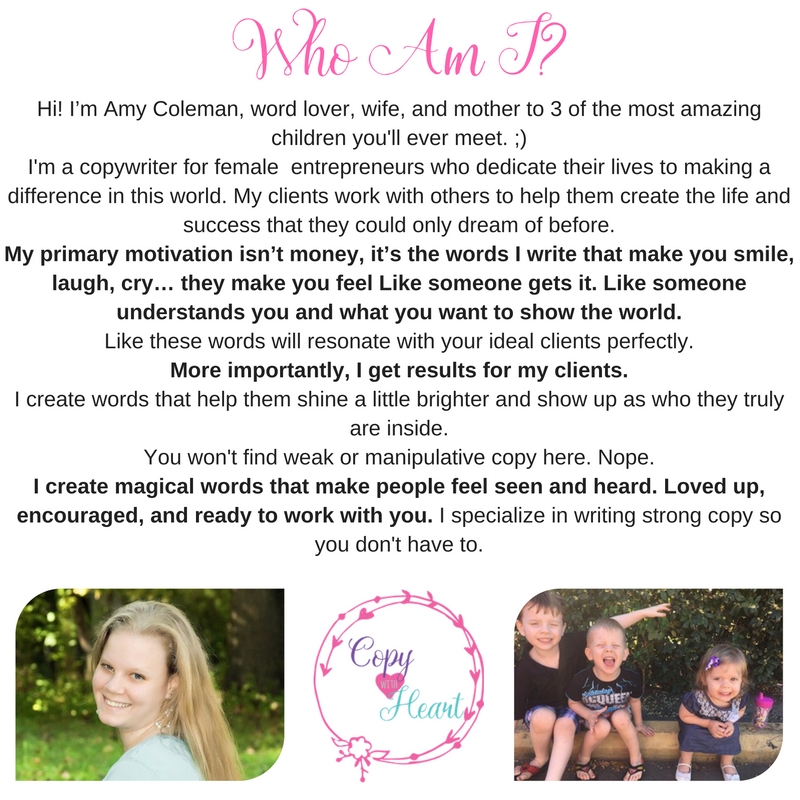 This workbook will walk you through writing your sales page step-by-step in a feel good, easy way that won't leave you frustrated or cursing at your computer.
In this workbook, you'll learn how to:
Find your voice and own it so you write heart-centered copy that sounds like you and feels good.
Position your offer so your readers want to buy.
Write an entire sales page using key copy principles I use every day when writing for my clients so the end result is a compelling and converting sales page you're proud to show off.
Finally, you can sit down at your computer and create an authentic sales page that converts to clients and money without all of the screaming and crying horror of sales pages in the past. You'll know exactly what you need to do to write and conquer that blinking cursor that has terrorized you so many times before.
Ready to say goodbye to all your sales page writing woes? Click the  button below to get the workbook delivered straight to your inbox at no cost to you! 
Still have questions? I've got answers. Keep reading.
Who Is This For?
This is for you if:
You struggle with writing copy.
You would love to invest in a copywriter, but just can't afford to at this time.
You've tried writing in the past, but your copy didn't convert into sales.
You're not sure what goes on a sales page.
You know you have a solid idea, but can't seem to bring your transformation to light on a sales page in a way that speaks to your audience.
You want an easy, accessible way to write a sales page without all the confusion and marketing jargon that leaves you scratching your head.
VERONICA'S GROUP PROGRAM FILLED UP!
From the moment we had our consultation call, I felt Amy got me.  Her interview process was so thorough, she truly captured my voice.  She was thorough, professional and fast!  She took my average copy and elevated it to sing.  I can't wait to work with Amy again.  Thank you Amy for being so patient and thorough to educate me through the process. Thanks to Amy's sales page copy, my group program filled up with only a single spot left!"
– Veronica L. Sagastume
Business Coach and Founder of BizFit Coaching
Are you ready to master your sales page once and for all and watch the sales roll in?
Click the button below to get your copy today.
Your days of being haunted by the blinking cursor, struggling to write your sales page, and tripping up at the last minute in your own horror story of missed launches and failed copy are over. Grab The Sales Page Rescue today to learn and implement proven copywriting principles to transform your sales pages from nonexistent or weak to compelling and high-converting today.
Frequently Asked Questions
Q: I am a total newb at all of this online business stuff, does this challenge build on an assumed level of knowledge that I many not have?
A: Not at all. It can be implemented even if you're a complete beginning and aren't familiar at all with marketing principles and creating a website online.
Q: Will this work for me even if I hate writing?
A: Yes, as long as you follow the steps and do the work. This was designed for writers and non-writers alike because it takes through the entire process of writing a sales page. It makes it easy and provides you with proven copywriting principles along with a workbook format so you can just start writing without getting stuck in your own head.
Q: Do I need any special programs or technology to implement this?
A: Nope! You will need whatever you use for your current website (WordPress, LeadPages, SquareSpace, etc.) but other than that, you don't need anything new. You don't even have to have Microsoft Office or any other word processor, the free Google Docs will do the trick!
What are you waiting for? Click the button below and I'll see you in your inbox.